If you are patient and understanding you may be the right person for the most rewarding challenge of your life. CFP's Intensive Foster Care Program (IFC) and Families for Children Program (FFC) aim to place children/ adolescents in safe, stable, and loving homes.
Communities for People provides foster care services in both MA and RI . CFP employs the same community-based and strength-based approaches in these programs as it does in all of its programs.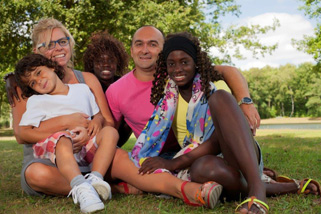 Massachusetts: Children and adolescents in the custody of the Department of Children and Families ( DCF ) or the Department of Youth Services ( DYS ). MAPP Training available.
Rhode Island: Children and adolescents in the custody Department of Children, Youth, and Families ( DCYF ).
All of the children and youth, or adolescents, referred to our programs for foster care or adoption have experienced some type of abuse or neglect. As a result of these experiences, many face emotional, educational, developmental, or behavioral challenges. We also seek homes to place sibling groups and children/youth with special medical needs.
The "best fit" families not only answer to youth's physical needs for safety and permanency but also appreciate their cultural backgrounds and cultivate their strengths. All adults who can provide a safe, stable and a loving home are encouraged to apply to get involved. Individuals or couples, regardless of marital status or sexual orientation, may apply.
There are no age, income or home ownership requirements. Birth, foster, and adoptive parents are not charged for any part of our services. Foster care and adoption subsidies, including health insurance, are available for children in DCF, DYS and DCYF custody. Our programs offer extensive support to all families who are participating in the programs.